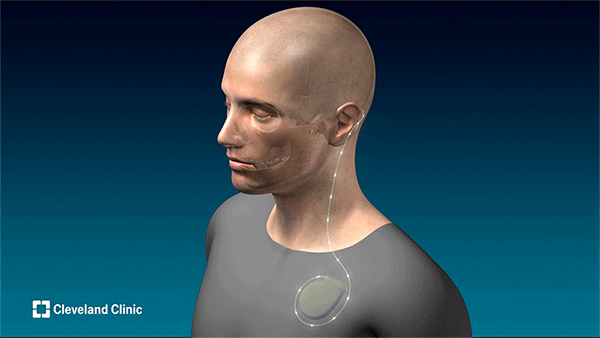 Deep brain stimulation is a surgical procedure that involves implanting electrodes in the brain, which deliver electrical impulses that block or change the abnormal activity that cause symptoms. (Courtesy: Cleveland Clinic)
"He had limited use of his hand. It really wasn't functioning," explains Andre Machado, MD, PhD, who is Chairman of the Cleveland Clinic Neurological Institute. "He couldn't do as much manual work, with both hands, and that was a limitation for his quality of life."
For the study, Joe first underwent two surgical procedures — one to insert the DBS device under the skin of his chest, just below the collarbone, and the other, to implant the DBS electrode in a part of the cerebellum called the dentate nucleus. Once activated, the device, called an implantable pulse generator, serves as a specially-calibrated pacemaker for the brain, stimulating it to try and enhance motor rehabilitation.
COMMENTARY:
Many times in science, application precedes understanding. Deep brain stimulation, either by electrical or magnetic pulses is a good example.
It is not at all understood how the brain really works, much less how electrical and magnetic stimulation in the brain works. It may stimulate or slow down neural impulses, or interrupt the incoming signals or the outgoing messages. Are there any other possibilities?
At least it does work, Apparently.
One thing for certain is that deep brain stimulation is preferable to previous treatments, which produced small, destructive, irreversible lesions in the brain. At least these stimulations can be stopped if they don't work.
I enjoyed this posting, since it reignited my interest in the cerebellum. This amazing Organ has more neurons than the rest of the brain combined, represented by innumerable small granule cells. I wasn't even aware of the dentate nucleus, which is an island of cerebral cortex-like neurons in the white matter of the cerebellum. Apparently the action of the cerebellum is orchestrated through this and a couple of other islands of neurons. All of the coordination, movement, and thought processing accomplished in the cerebellum takes place through these nuclei.
It was also fascinating to learn of a patient who has complete lack of a cerebellum, and suffers only some mild incoordination and speech problems. Apparently, absent the cerebellum, the rest of the brain is largely capable of taking over the function of the missing cerebellum. Once the brain is formed, However, and dependent upon the cerebellum, damage to this organ causes a great deal of coordination, movement, and balance problems.
I'll put another plug-in for sleep, diet and exercise, as well as being careful with your body. Prevention is far better than treatment.
—Dr. C.