Prostate cancer is one of the most common types of cancer. Many prostate cancers grow slowly and are confined to the prostate gland, where they may not cause serious harm.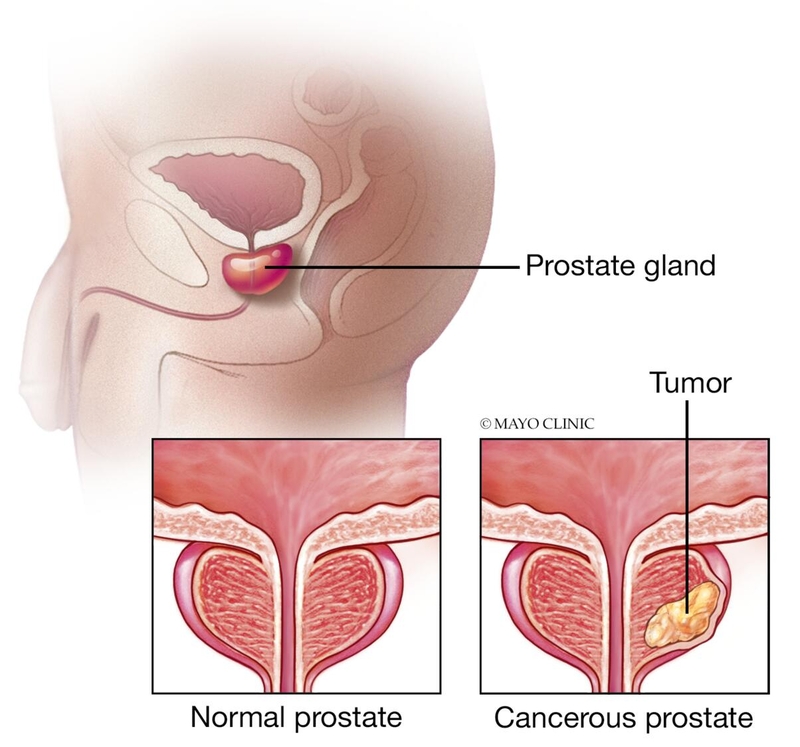 However, while some types of prostate cancer grow slowly and may need minimal or even no treatment, other types are aggressive and can spread quickly.
Prostate cancer that's detected early — when it's still confined to the prostate gland — has the best chance for successful treatment.
Prostate cancer may cause no signs or symptoms in its early stages. When it's more advanced may cause signs and symptoms such as:
Trouble urinating
Decreased force in the stream of urine
Blood in the urine
Blood in the semen
Bone pain
Losing weight without trying
Erectile dysfunction
COMMENTARY:
PSA screening will pick up prostate cancer very efficiently. However, it will also pick up slow growing cancer that might never be require treatment, and responding to the positive test could cause problems ranging from pain and convenience to erectile dysfunction and incontinence.
It takes 1000 men screened to produce one life-saving treatment for prostate cancer.
Risk reward analysis means that the younger you are, the more reasonable is a test, since you have many more years of potential life. The older you are, conversely, the less you have to gain. The problem is that most cancers are slow growing, and might never cause a problem, especially if you have only a few years left to live.
Most experts recommend a test when a man reaches the age of 45, but reserve annual testing for those who are at high risk, such as having a brother or father with aggressive prostate cancer.
When a man reaches the age of 70, most experts would decline to test.
Sometimes, emotional considerations present themselves; worry is very much a disease. For instance, the best man at my wedding stopped getting his PSA test about three years before he was diagnosed with fatal metastatic prostate cancer. I am inclined to continue getting my annual prostate test, and would worry if I didn't.
A recent study in the journal Cancer reported that more than half of a group of men 75 years and older had PSA tests and biopsies.
As an interesting aside, the PSA test is the only test I have ever had rejected by Medicare, presumably because of this expert opinion factoring in the cost benefit analysis of using the test.
—Dr. C.